Abralia andamanica
Kotaro Tsuchiya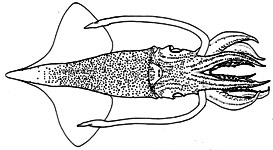 Introduction
Abralia andamanica
is broadly distributed and associated with shelf waters of the Indo-West Pacific. A very long, conical tail is characteristic of this species.
Characteristics
Tentacle clubs

Two or three hooks on ventral side.
Two rows of large suckers on dorsal side of manus.

image info
Hectocotylus

Left ventral arm of male hectocotylized.
Hectocotylus with two differently sized off-set flaps.

image info
Eye Photophores

Five, complex photophores: two large terminal opaque organs and three intermediate silvery organs.

image info
Integumental Photophores

Ventral mantle and head with scattered arrangement of integumental organs.

Mantle apex ("tail")

Unusually long
Nomenclaure
A. andamanica robsoni
Grimpe, 1931 was described as a subspecies from Japanese waters with a linear photophore arrangement on the ventral head, but is considered to be a synonym (Tsuchiya and Okutani, 1989).
Distribution
Geographical distribution
This species was first described from the Andaman Sea, Indian Ocean. It is distributed widely from Sagami Bay, Central Japan through the East China Sea, and shelf waters of Southeast Asia, to the northern coast of Australia and the Indian coast.
About This Page


Tokyo University of Fisheries, Konan, Minato, Tokyo

Page copyright © 2000
Citing this page:
Tsuchiya, Kotaro. 2000. Abralia andamanica (Goodrich 1896). Version 01 January 2000 (under construction). http://tolweb.org/Abralia_andamanica/19655/2000.01.01 in The Tree of Life Web Project, http://tolweb.org/