Staphylinoidea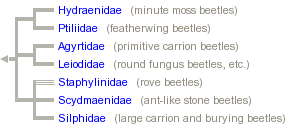 This tree diagram shows the relationships between several groups of organisms.
The root of the current tree connects the organisms featured in this tree to their containing group and the rest of the Tree of Life. The basal branching point in the tree represents the ancestor of the other groups in the tree. This ancestor diversified over time into several descendent subgroups, which are represented as internal nodes and terminal taxa to the right.
You can click on the root to travel down the Tree of Life all the way to the root of all Life, and you can click on the names of descendent subgroups to travel up the Tree of Life all the way to individual species.
For more information on ToL tree formatting, please see Interpreting the Tree or Classification. To learn more about phylogenetic trees, please visit our Phylogenetic Biology pages.
close box
Phylogeny after Lawrence and Newton 1982, Caterino et al. 2005, and Beutel and Leschen 2005.
References
Beutel, R. G. and Leschen, R. A. B. 2005. Phylogenetic analysis of Staphyliniformia (Coleoptera) based on characters of larvae and adults. Systematic Entomology (2005),DOI:10.1111/j.1365-3113.2005.00293.x
Caterino, M. S., T. Hunt, and A. P.Vogler. 2005. On the constitution and phylogeny of Staphyliniformia (Insecta:Coleoptera). Molecular Phylogenetics and Evolution 34: 655 -672. doi:10.1016/j.ympev.2004.11.012
Lawrence, J. F. and A. F. Newton. 1982. Evolution and classification of beetles. Annual Review of Ecology and Systematics 13: 261-290.
Information on the Internet
About This Page
Page copyright © 1995 David R. Maddison
Citing this page:
Maddison, David R. 1995. Staphylinoidea Latreille 1802. Version 01 January 1995 (temporary). http://tolweb.org/Staphylinoidea/9076/1995.01.01 in The Tree of Life Web Project, http://tolweb.org/