Pentatomoidea
Stink bugs, burrower bugs, shield-back bugs, etc.
Dimitri Forero
This tree diagram shows the relationships between several groups of organisms.
The root of the current tree connects the organisms featured in this tree to their containing group and the rest of the Tree of Life. The basal branching point in the tree represents the ancestor of the other groups in the tree. This ancestor diversified over time into several descendent subgroups, which are represented as internal nodes and terminal taxa to the right.
You can click on the root to travel down the Tree of Life all the way to the root of all Life, and you can click on the names of descendent subgroups to travel up the Tree of Life all the way to individual species.
For more information on ToL tree formatting, please see Interpreting the Tree or Classification. To learn more about phylogenetic trees, please visit our Phylogenetic Biology pages.
close box
Morphological unweighted tree after Grazia et al. (2008).

Discussion of Phylogenetic Relationships
Alternative views on Pentatomoidea relationships have been proposed in the past. A few of the hypothesis proposed for the group (not based on cladistic analyses) are for instance:
Click on an image to view larger version & data in a new window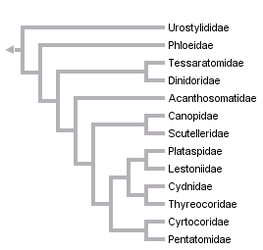 From Gapud (1991) [as interpreted by Grazia et al. 2008].
From Cobben (1978) [as interpreted by Grazia et al. 2008].
From Cobben (1968) [as interpreted by Grazia et al. 2008].
From China & Miller (1959) [as interpreted by Grazia et al. 2008]
More recently, Grazia et al. (2008) using cladistic methods proposed a series of phylogenetic hypotheses for Pentatomoidea based on morphological, molecular, and combined data sets. The trees shown below are the alternative hypotheses for each one of these data sets. The taxon sampling for the molecular data set was not as complete as the morphological one. Clearly, more data–in particular molecular–is needed to test these hypotheses.
Here are some of the alternative hypotheses of Grazia et al. (2008):
In Grazia et al. (2008) Pentatomidae (s. lat.) includes as subordinate groups Cyrtocorinae and Aphylinae, treated as families by some authors. In the morphological analysis Aphylinae, Cyrtocorinae, and Pentatomidae s. str. were always monophyletic. No molecular data were available for these taxa.
References
China, W.E., Miller, N.C.E. 1959. Check-list and keys to the families and subfamilies of the Hemiptera-Heteroptera. Bulletin of the British Museum (Natural History), Entomology 8: 1–45.
Cobben, R.H. 1968. Evolutionary Trends in Heteroptera. Part I. Eggs, Architecture of the Shell, Gross Embrylology, and Eclosion. Centre for Agricultural Publishing and Documentation, Wageningen.
Cobben, R.H. 1978. Evolutionary Trends in Heteroptera. Part II. Mouthpart-structures and Feeding Strategies. Mededlingen Landbouwhogeschool 78-5. H. Veeman, Wageningen.
Gapud, V. 1991. A generic revision of the subfamily Asopinae with consideration of its phylogenetic position in the family Pentatomidae and superfamily Pentatomoidea (Hemiptera-Heteroptera). Philippine Entomologist 8: 865–961.
Grazia, J.; Schuh, R.T.; Wheeler, W.C. 2008. Phylogenetic relationships of family groups in Pentatomoidea based on morphology and DNA sequences (Insecta: Heteroptera). Cladistics 24: 1-45.
Li, H.-M., R.-Q. Deng, J.-W. Wang, Z.-Y. Chen, F.-L. Jia and X.-Z. Wang. 2005. A preliminary phylogeny of the Pentatomomorpha (Hemiptera: Heteroptera) based on nuclear 18S rDNA and mitochondrial DNA sequences. Molecular Phylogenetics and Evolution 37(2):313-326.
About This Page
Dimitri Forero

University of California Riverside, Riverside, California, USA

Correspondence regarding this page should be directed to Dimitri Forero at

Page copyright © 2009 Dimitri Forero
Page: Tree of Life Pentatomoidea. Stink bugs, burrower bugs, shield-back bugs, etc.. Authored by Dimitri Forero. The TEXT of this page is licensed under the Creative Commons Attribution-NonCommercial License - Version 3.0. Note that images and other media featured on this page are each governed by their own license, and they may or may not be available for reuse. Click on an image or a media link to access the media data window, which provides the relevant licensing information. For the general terms and conditions of ToL material reuse and redistribution, please see the Tree of Life Copyright Policies.
First online 21 June 2005
Content changed 13 March 2009
Citing this page:
Forero, Dimitri. 2009. Pentatomoidea. Stink bugs, burrower bugs, shield-back bugs, etc.. Version 13 March 2009 (under construction). http://tolweb.org/Pentatomoidea/10945/2009.03.13 in The Tree of Life Web Project, http://tolweb.org/
edit this page