Pseudotsuga
Douglas-fir
David S. Gernandt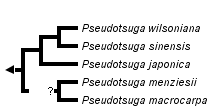 This tree diagram shows the relationships between several groups of organisms.
The root of the current tree connects the organisms featured in this tree to their containing group and the rest of the Tree of Life. The basal branching point in the tree represents the ancestor of the other groups in the tree. This ancestor diversified over time into several descendent subgroups, which are represented as internal nodes and terminal taxa to the right.
You can click on the root to travel down the Tree of Life all the way to the root of all Life, and you can click on the names of descendent subgroups to travel up the Tree of Life all the way to individual species.
For more information on ToL tree formatting, please see Interpreting the Tree or Classification. To learn more about phylogenetic trees, please visit our Phylogenetic Biology pages.
close box
Introduction
Pseudotsuga is a small genus of approximately five species distributed in eastern Asia and western North America. Pseudotsuga menziesii, with a distribution from western Canada to central Mexico, is one of the most economically important timber species in the world.
Characteristics
Medium to tall trees with straight stems and upright to spreading branches. Spirally arranged leaves (needles), reddish brown ovoid-conical vegetative buds. Reddish brown ovulate cones are pendulous with exserted bracts (Farjon 1990).
Discussion of Phylogenetic Relationships
Farjon (1990) recognized only four species of Pseudotsuga: Pseudotsuga macrocarpa from southern California, Pseudotsuga menziesii ranging from Canada to south-central Mexico, Pseudotsuga japonica from southern Japan, and Pseudotsuga sinensis from China. Included in the ToL phylogeny is also P. wilsoniana from Taiwan. In addition to P. wilsoniana, several other species have been segregated from Pseudotsuga sinensis (P. forrestii, P. salvadorii, P. gaussenii, P. brevifolia, P. xichangensis), but these have not been widely accepted. Mexican botanists tend to recognize four segregate species of Pseudotsuga menziesii var. glauca in Mexico: P. macrolepis, P. rehderi, P. guinieri, and P. flahaultii (Martínez 1963).
Relationships among the widely-accepted species were studied by Strauss et al. 1990 using DNA restriction fragments and by Gernandt and Liston (1999) using nuclear ribosomal DNA.
References
Farjon, A. 1990. Pinaceae: drawings and descriptions of the genera Abies, Cedrus, Pseudolarix, Keteleeria, Nothotsuga, Tsuga, Cathaya, Pseudotsuga, Larix and Picea. Koeltz Scientific Books, Königstein.
Gernandt, D. S. and A. Liston. 1999. Internal transcribed spacer region evolution in Larix and Pseudotsgua (Pinaceae). Amer. J. Bot. 86:711-723.
Martínez, M. 1963. Las Pináceas Mexicanas. 3rd edition. Universidad Nacional Autónoma de México, Mexico City.
Strauss, S. H., A. H. Doerksen, and J. R. Byrne. 1990. Evolutionary relationships of Douglas-fir and its relatives (genus Pseudotsuga) from DNA restriction fragment analysis. Canad. J. Bot. 68:1502-1510.
About This Page
David S. Gernandt

Universidad Nacional Autonoma de Mexico

Correspondence regarding this page should be directed to David S. Gernandt at

Page copyright © 2005 David S. Gernandt
First online 12 January 2005
Citing this page:
Gernandt, David S. 2005. Pseudotsuga Carričre 1867. Douglas-fir. Version 12 January 2005 (under construction). http://tolweb.org/Pseudotsuga/21630/2005.01.12 in The Tree of Life Web Project, http://tolweb.org/
edit this page