Lakota name: cahḣlóġan waśťémna

Listen to Lakota Plant Name: cahḣlóġan waśťémna

Scientific name: Artemisia campestris
Common names: field sagewort, beach wormwood, field sagebrush, field wormwood, prairie sagewort, tall wormwood
Lakota uses: A tea from the roots is used for one who cannot urinate or whose bowels do not move, or for a woman who is having difficulty giving birth. Pulverized roots are used for perfume. Pulverized roots are put on the face of a sleeping man so he will not wake up and his horses can be stolen.
Other medical uses: The herb is anthelmintic, antiseptic, cholagogue, deobstruent, emmenagogue, stomachic and tonic (see list of terms below). The main use of this herb is as an emmenagogue, and it is also a good stimulant tonic and has some nervine properties. The leaves have been chewed in order to treat stomach problems. The plant was used by some native North American Indian tribes as an abortifacient to terminate difficult pregnancies. The plant has been crushed and applied externally to rheumatic joints, eczema, bruises and sores. A poultice of the crushed leaves has been applied to sore eyes. An infusion of the roots has been used, especially on children, as a hair tonic and to treat scalp infections. It has been taken internally to promote urination and bowel movements.
Secondary compounds: A water extract of A. campestris showed a strong scavenging action of 1,1-diphenyl-2-picrylhydrazyl (DPPH), hydroxyl and superoxide anion radicals. A. campestris contains DPPH, which is an antioxidant.

Click on an image to view larger version & data in a new window
Molecular structure of 1,1-diphenyl-2-picrylhydrazyl (DPPH). © 1sagebrush13
Federal status: It is very widespread and is sometimes considered to be invasive. However, some subspecies are considered threatened and endangered.
Pollination: Field sagewort flowers are wind-pollinated.
Click on an image to view larger version & data in a new window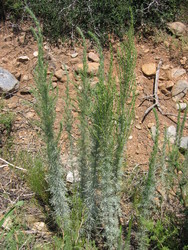 Artemisia campestris plants (© 2006 gwarcita) and flowers (© Mary Ellen (Mel) Harte)
Habitats: grassland, cliffs, prairie, sand barrens & dunes
South Dakota distribution: Counties: Fall River, Custer, Pennington, Lawrence, Harding, Perkins, Stanley, Hughes, Brule, Faulk, McPherson, Sanborn, Day, Marshall, Roberts, Codington, and Minnehaha.
US distribution: AL, AZ, CA, CO, CT, DE, FL, ID, IL, IN, IA, KS, ME, MA, MI, MN, MS, MO, MT, NE, NH, NJ, NM, NY, ND, OH, OK, PA, RI, SC, SD, TX, VT, VA, WA, WI, WY
Global distribution: Field sagewort is a circumboreal (throughout far northern regions) species with a wide distribution and altitudinal range in North America. It occurs in nearly all US states and Canadian territories.
Words to know:
Anthelmintic - drugs that expel parasitic worms
Antiseptic - agent that kills or inhibits the growth of microorganisms on the external surfaces of the body.
Cholagogue - a medicinal agent which promotes the discharge of bile from the system
Deobstrudent - A medicine which removes obstructions from fluid canals

Emmenagogue - Promotes or increases the menstrual flow.
Nervine - A nerve tonic, a medicine that acts therapeutically upon the nerves, particularly in the sense of a sedative that serves to calm ruffled nerves.
Stomachic - A stomachic medicine is one that serves to tone the stomach, improving its function and increasing appetite. It is an old term that is no longer applied.
Abortifacient - a substance that induces abortion.