Tragulidae
Chevrotains, Mouse Deer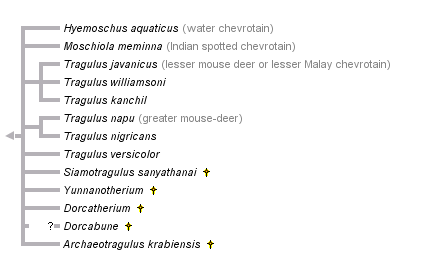 This tree diagram shows the relationships between several groups of organisms.
The root of the current tree connects the organisms featured in this tree to their containing group and the rest of the Tree of Life. The basal branching point in the tree represents the ancestor of the other groups in the tree. This ancestor diversified over time into several descendent subgroups, which are represented as internal nodes and terminal taxa to the right.
You can click on the root to travel down the Tree of Life all the way to the root of all Life, and you can click on the names of descendent subgroups to travel up the Tree of Life all the way to individual species.
For more information on ToL tree formatting, please see Interpreting the Tree or Classification. To learn more about phylogenetic trees, please visit our Phylogenetic Biology pages.
close box
References
Janis, C. M. 1984. Tragulids as living fossils. Pages 87-94 in Living Fossils. N. Eldredge and S. M. Stanley, eds. Casebooks in Earth Sciences, New York, Berlin, Heidelberg, Tokyo.
Kimura, J., M. Sasaki, H. Endo, and K. Fukuta. 2004. Anatomical and histological characterization of the female reproductive organs of mouse deer (Tragulidae). Placenta 25(8-9):705-711.
Matsubayashi, H., E. Bosi, and S. Kohshima. 2003. Activity and habitat use of lesser mouse-deer (Tragulus javanicus). Journal of Mammology 84(1):234-242.
Meijaard, E. and C. P. Groves. 2004. A taxonomic revision of the Tragulus mouse-deer (Artiodactyla). Zoological Journal of the Linnean Society 140(1):63-102.
Metais, G., Y. Chaimanee, J. J. Jaeger, and S. Ducrocq. 2001. New remains of primitive ruminants from Thailand: evidence of the early evolution of the Ruminantia in Asia. Zoologica Scripta 30(4):231-248.
Ohtaishi, N. and Y. Gao. 1990. A Review of the distribution of all species of deer (Tragulidae, Moschidae And Cervidae) in China. Mammal Review 20(2-3):125-144.
Pickford, M. 2001. Africa's smallest ruminant: A new tragulid from the Miocene of Kenya and the biostratigraphy of East African Tragulidae. Geobios 34(4):437-447.
Pickford, M., B. Senut, and U. Mourer-Chauvire. 2004. Early Pliocene tragulidae and peafowls in the rift valley, Kenya: Evidence for rainforest in east Africa. Comptes Rendus Palevol 3(3):179-189.
Thomas, H., L. Ginsburg, C. Hintong, and V. Suteethorn. 1990. A new tragulid, Siamotragulus sanyathanai n.g., n.sp. (Artiodactyla, Mammalia) from the Miocene of Thailand (Amphoe Pong, Phayao Province). Comptes Rendus de l'Académie des Sciences de Paris, Série IIa 310:989-995.
Webb, S. D. 1998. Hornless ruminants. Pages 463-476 in Evolution of Tertiary Mammals of North America. C. M. Janis, K. M. Scott and L. L. Jacobs, eds. Cambridge University Press, Cambridge.
Webb, S. D. and B. E. Taylor. 1980. The phylogeny of hornless ruminants and a description of the cranium of Archaomeryx. Bulletin of the American Museum of Natural History 167:117-158.
West, R. M. 1980. A minute new species of Dorcatherium (Tragulidae, Mammalia) from the Chinji Formation near Daud Khel, Mianwali District, Pakistan. Contribution in Biology and Geology 33:1-6.
Information on the Internet
About This Page
Page copyright © 2006
Page: Tree of Life Tragulidae. Chevrotains, Mouse Deer. The TEXT of this page is licensed under the Creative Commons Attribution-NonCommercial License - Version 3.0. Note that images and other media featured on this page are each governed by their own license, and they may or may not be available for reuse. Click on an image or a media link to access the media data window, which provides the relevant licensing information. For the general terms and conditions of ToL material reuse and redistribution, please see the Tree of Life Copyright Policies.
First online 23 February 2006
Citing this page:
Tree of Life Web Project. 2006. Tragulidae. Chevrotains, Mouse Deer. Version 23 February 2006 (temporary). http://tolweb.org/Tragulidae/50866/2006.02.23 in The Tree of Life Web Project, http://tolweb.org/
edit this page